The 30W To 80W Intelligent Solar Street Light is configured with MPPT solar controller, high efficiency solar panels and long life time LiFePO4 battery. It's wireless and easy to be installed, with free maintenance and long working life. It can be used to light up streets, parking lots, parks, roadways, and highways.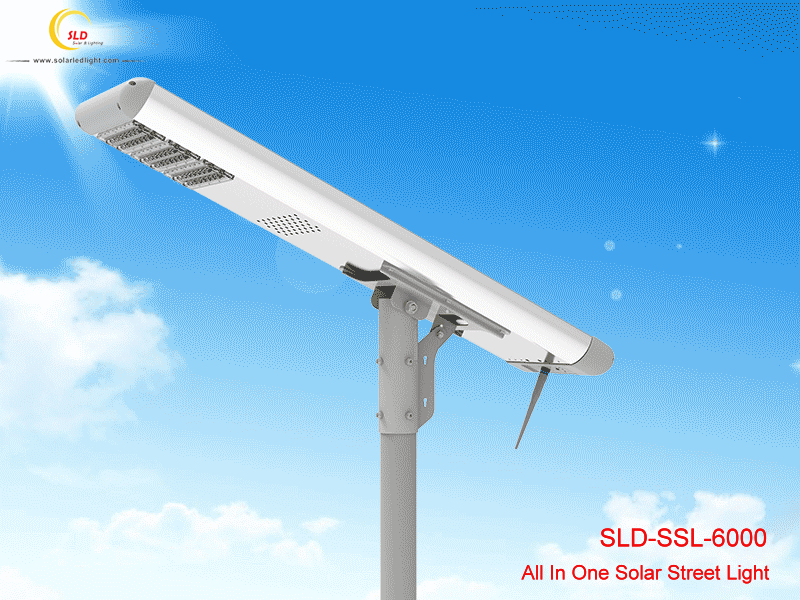 Product features
1. Durable aluminum frame, modular mounting panel, easily replaceable, anti-corrosion protection.
2. Protective class IP65, enhances protection from dust and water.
3. Adjustable brackets with different angles to choose different hole positions for different situations.
4. High brightness light beads can be lighting continuously for 3-5 days after being fully charged in 5-6 hours.
5. Various pole heights, finishes, lumens for choice, customized your owen solar stret lights.
6. Patented MPPT controller, smartly control the on and off of lights.
 Specification
1. Dimension
2. Technical Data
SSL SERIES
SLD-SSL-3000
SLD-SSL-5000
SLD-SSL-8000
Lumen output
3300-300LM
6600-7200LM
8800-9600LM
Power of PV module
50W
90W
120W
LiFeP04 battery capacity
269WH
430WH
768WH
Qty of LED chips
32pcs
48pcs
64pcs
Dimension of product
905*350*80mm
1290*350*80mm
1700*350*80mm
Recommended installation height
<8m
<10m
<12m
Recommended installation distance
20m to 25m
25m to 35m
35m-40m
Controller
 MPPT
Optical Distribution
TypeⅡ
Visual Angle
140°*70°
Color Temperature
WW 3200K; NW 4200K, CW 5500K (customized)
Light Head lifetime
100000 hours to LM80 specifications
Battery- service life
8 years at 70% DoD and at 45° ambient
solar panel service life
25 years
Working Time
3-5days
Woring temperature
-25℃~+75℃
storage temperature
-20℃~+45℃
Wind Load Rate
40m/s
Top of Pole or Tenon OD
60-80mm
NETWORK
 Zigbee proprietary wireless network allows remote management and control of lights using internet or GSM. One gateway(DTU) per 200 pcs lights and all the gateways report to a central control room.
3.Work Mode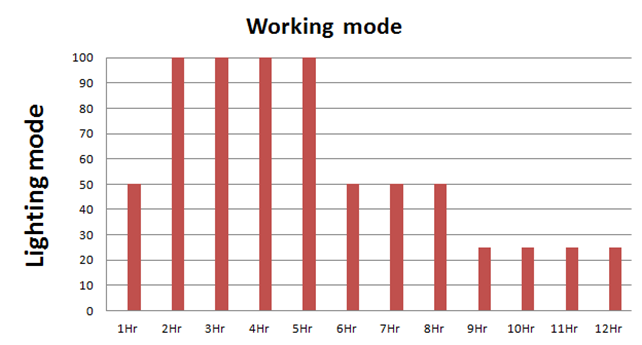 Product Details
LiFePO4 battery : Fully parallel designed LiFePO4 battery, life span up to 3000 cycles, with stable charging and discharging, non-flammable and non-explosive.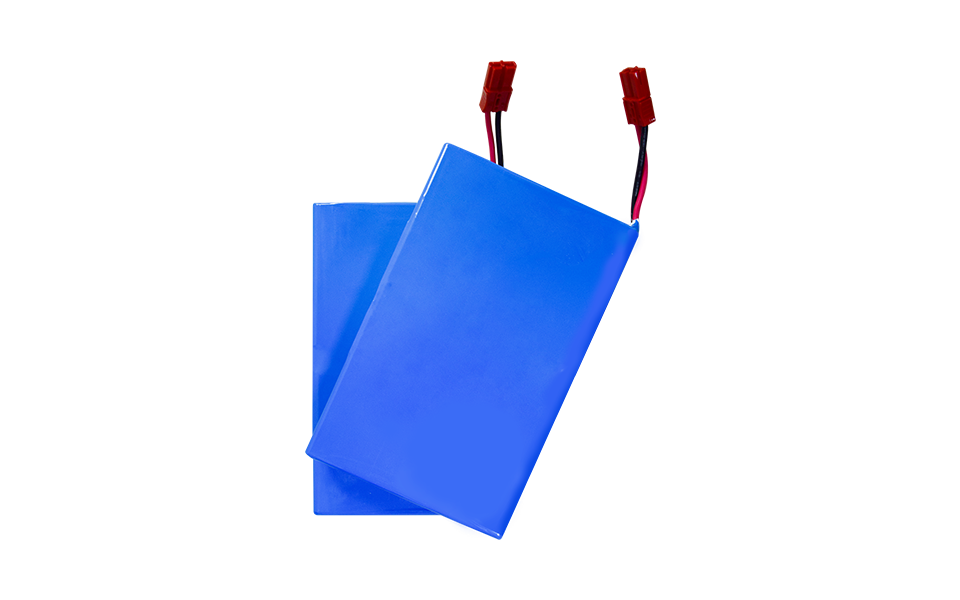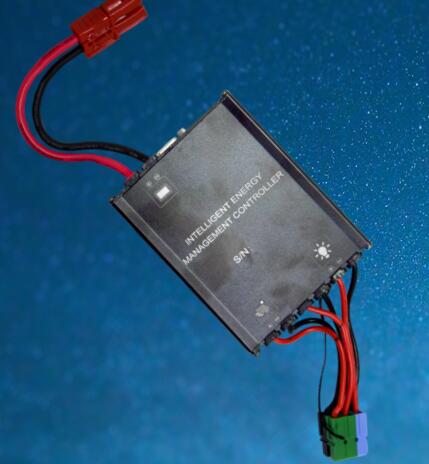 Intelligent MPPT controller : 99% tracking efficiency and 98% charging efficiency .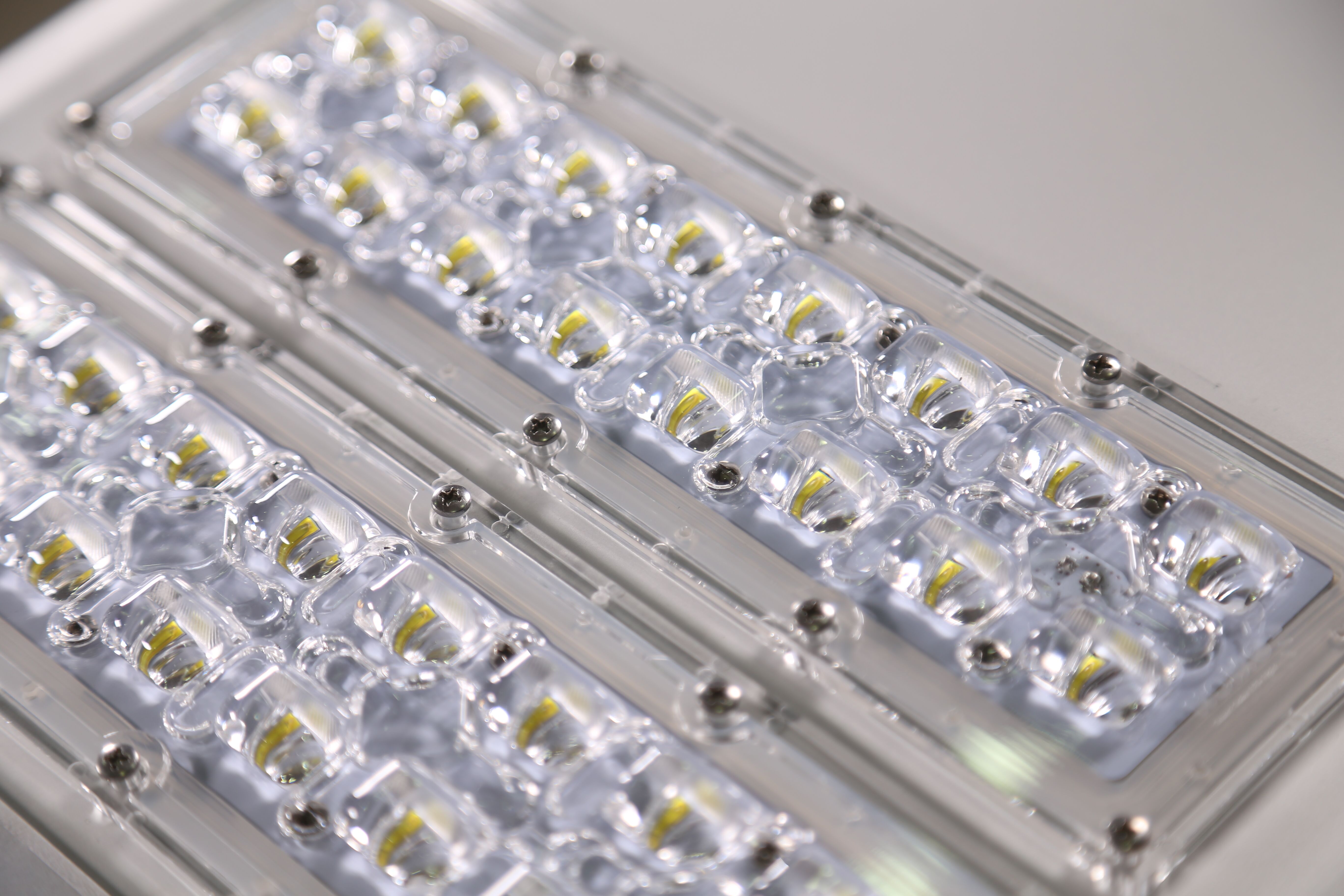 High efficiency LED chip , Choose Philips 5050 led chip as the light sourse, with long life span up to 10000 hours and low power consumption, can endure extremely harsh environment.
Holding Bracket: Patent designed tailstock with 3 kinds of angles to adjust, which could meet different lighting demands of the solar led street light outdoor.
Quality Control
1. Components testing
All the components passed the strict test before assemble .Connecting the battery ,controller and led light module to work  24hours  , so that to assure the solar led street light system in good situation.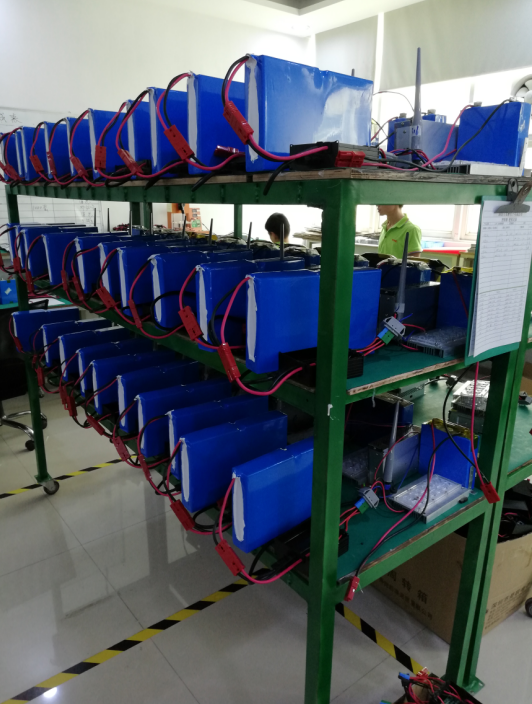 2. Finished Product Inspection
After assembling, all the finished solar-powered led street lights will be turned on to see the work status , and make sure all the components connected well during assemble process.
3. Appearance Inspection
Clean the dirt on the surface of solar streetlights to make sure solar lights looks beautiful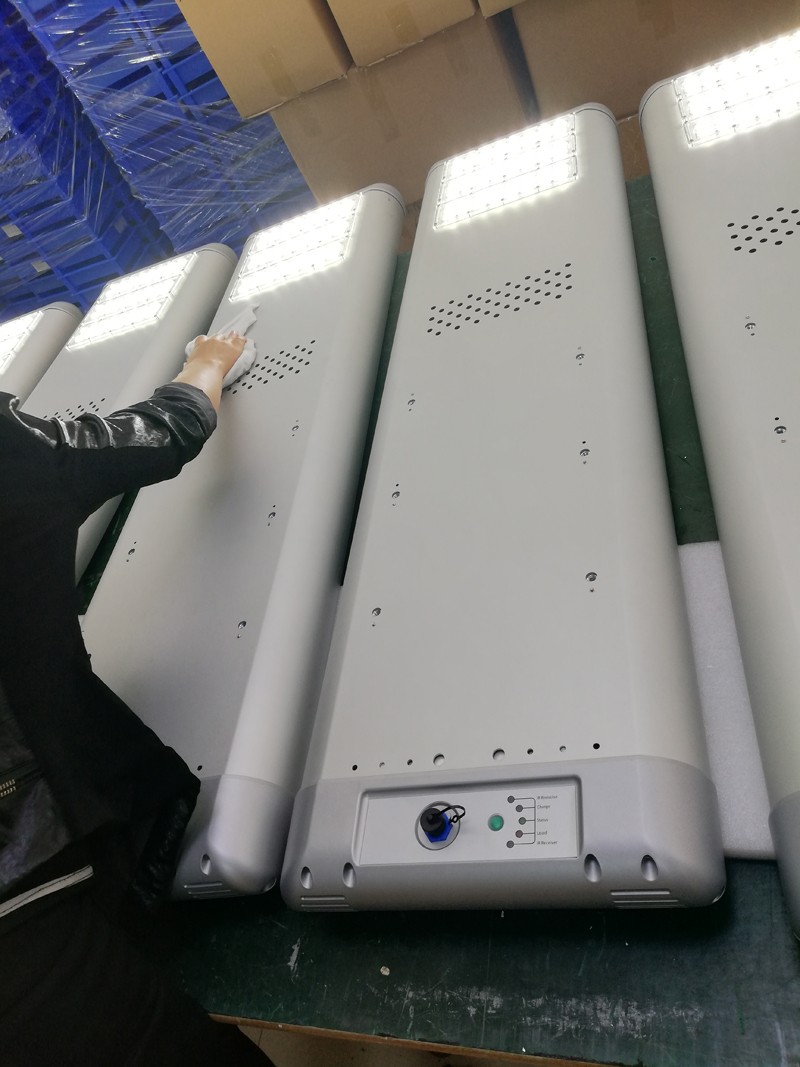 Packing Information
| | | | |
| --- | --- | --- | --- |
| Packing   Size | 1375*420*150mm(1pc   lamp body) 370*310*305mm(2 sets    Parts  ) | New/Gross   weight  | 19kg/21kg |
| QTY/CBM | 10pcs/CBM  (0.105CBM/set) | QTY/20GP   /40HQ | 350pcs/850pcs |
Application
For small streets, parking lots, arenas, public spaces, yards, open areas and other roadway lighting etc.
More information about SSL series all in one integrated solar led street light 
● The work time depends on the weather condition, the season and the location
● It is waterproof , but limited to rain and moisture( cannot immerged into the water or stay in the water too long).
● Please be sure it is installed in a well-lit location where the solar panel can get maximum sunlight during the day.
● The fully charged street light can be stored up to six months. Please take timely inspection and charge the battery after a long time transportation and storage so that the battery can perform well.
● Facing south in the northern hemisphere and north in the southern hemisphere. Slope angle should be adjusted according to the local latitude. Solar panels must be installed in the sunny, no houses, trees shade place so that they can receive light all day ( Minimum requirements:9.00 am – 16.00 PM without sunscreen,)
● Keep cleaning the solar panel every few time so that the solar panel can generate power at maximum efficiency.
FAQ
Q: I want to order a 100w solar led street light outdoor, can you supply it to me?
A: Yes, you could contact us to share more demands about the inquiry, we could customize specifications according to the actual needs.
Q: What about the MOQ of the solar led street light outdoor?
A: The MOQ is only 1pc, contact us to get the sample.
Q: I want the highest brightness solar led street light outdoor, please calculate the specifications for me. Is it okay?
A: Before we calculate the specifications for you, there have few questions need to confirmed, such as what about the purpose of lighting application, pole height and pole distance, times of cloudy and rainy days, geographical conditions and locations, etc. So contact us freely and we could provide more professional service and the most suitable solar led street light outdoor for you.
If you're looking for the solar led street light outdoor,SunLinda , as one of the leading China manufacturers and suppliers, must be your best choice. Welcome to buy the quality solar products from our factory, and the customized service is also available.